HOMESCHOOLING OUR CHILDREN


by: Dawn Heitzman
     Usually about once a month we have someone who questions why and how we are home schooling our  children.  Quite frankly four years ago it was never even a thought we considered.  With our situation at the time it just seemed to fit our schedule best.  As a parent you sit back and question yourself if you even have what it takes and if your teaching them enough.  And we can't forget the the endless praying  that "we hope we don't screw them up too much".  Now, I can honestly say into our fourth year of home schooling this has been a great journey for not only for our children but also for us as parents. Of course we teach them the basic classes that all kids have in school, but it's all the other things that quite frankly when they were in public school we never even thought about teaching them….everyday life skills and beyond.  As a parent it really makes you look at yourself and what you do on a daily basis and what that say's to your children.  For us, our children see their parents working very hard for something they believe in.  They see us taking on challenges that perhaps we ourselves never thought we were capable of.  They get to see all of this because we want our dreams to come true.  We want them to grow up believing that if they work hard enough and strive for what they believe in, then it too will also come true in their lives whatever they choose to do.
Our beautiful daughter Demi
        

     The opportunities Demi has been given over that last four years have allowed her to not only increase her math skills but has opened up her communication skills. Once we saw the potential of what she could learn we decided to teach her the whole process. What she has learned has far exceeded our expectations. She has learned how to do spreadsheets, log inventory, be responsible for large sums of money, hand in end of the year reports, and most importantly how to communicate with the public. 

 

Demi acquired a passion for learning how to play the guitar.  Because lord knows Dave and I do not know the first thing about that instrument.  She now attends lessons.  We all cannot wait for the day she rocks out some AC/DC for us.  Demi also continues to draw and keep her passion for the arts.  She took up spray paint art and has acquired a passion for it.  Her dream is to someday be a successful artist. To see her display of work just visit her website.  The lessons Demi is learning from being part of the race team will stay with her all throughout her life. The littlest things that make a difference, like hugging her dad before each pass so that each of them knows how important they are to each other.  Making sure all gear, radios and water are on the pit cart before each pass.  Running for zip ties or getting a rag for a crew member when it is needed. The crew depends on her to stock and maintain all of the drinks & snacks.  Being part of the team may be one of her biggest lessons in life. For it doesn't not matter how big or small your part may be that coming together as one is what makes a successful team.  And being part of a successful team is a very rewarding life experience.

Our son Devin

      The child who always wanted to be home schooled.  And boy was he schooled.  Ever since he was a little baby he has wanted to go fast.  The need for speed is definitely running through his veins.  Being on the road has matured Devin way beyond his years. In the year 2006 Devin learned with his computer how to make videos from the onboard cameras he attached to the dragster and put them to music. His video's can now be seen on youtube and all over the web.  The first race of 2007  in Gainesville, Devin learned how assemble a new engine and put into the car. Along with his original duties of putting oil in and taking on and off oil pan, belly pan, and fuel.  That event also broke Devin into the co-pilot seat in the motorhome while mom drives to and from the races.  One of Devin's first team jobs was learning how to mix the fuel.  In doing so Devin learned about the different fuels and what makes them burn and how. Devin even made trips to the NHRA tech trailer on a regular basis to check fuel percentages and gauges.  Then Devin learned one of the dirtiest jobs of all, grinding clutch disks.  Devin looks like he's been climbing up and down a chimney whenever he takes on this task. And to our amazement at the end of 2007 Devin went to Dave and asked if he could learn how to do the clutch. After two events in Florida watching and a whole week of hands on testing, Devin can now service the clutch.  While in Florida, Devin also learned how to work the starter bottle needed to start the engine.  And in March of 2010 Devin turned 16, legally allowing him to go to the starting line with the team and start the dragster at National events.  The lessons Devin has learned being home schooled are endless.  Many thanks go out to all those crew members and crew chiefs who took their time to share their knowledge and experience with him.  Currently Devin decided to go back into the school system under a speciality field.  He attends Penta Career Center machining classes.  Devin hopes to make his own race car parts someday.  Soon you may just be seeing Devin getting his competitve liscense. 


     In closing I must say that home schooling our children was the best thing that could ever have happened to our family.  The lessons we have all learned have changed our life's for the better.  As the saying goes "The family that races together…stay's together".  Not only do we survive being together 24/7, we have all learned how to come together as family, as friends, and as a team.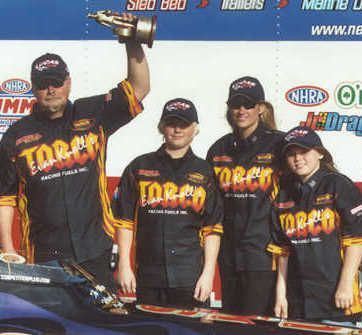 For more infomation on Demi and Devin visit their websites

....it's part of the their homeschooling curriculum

www.dynodemi.com

www.dynodevin.com